Getting to the beach at Playa Barqueta (or) Playa Las Olas, Panama is relatively straight-forward (for a place that doesn't really have streets labeled that well).
You take the road from the Panamerican Highway into David that would take you to the David airport, and then follow the signs to las Olas.
(There are signs to Las Olas all the way, but in David, the sign and the turn is easy to miss. Heading to the airport, you take a right at the private Catholic School for boys – a 3 story building at a non-descript intersection before the turn to the airport), and then follow the road.
Las Olas/Playa Barqueta is a condominium beach resort and hotel which also has some lots and condos for sale right on the beach (from $239,000 to upwards of $400,000).
The newest development is a place called Estrella del Mar (not built yet), where the pre-construction condos are going for $350k and up.
http://www.encuentra24.com/clasificados-page-o550054-panama-316-en.html
You can also rent houses at Las Olas. (This one goes for about $600/night for a 5BR/5BA house)
http://www.lasolasresort.com/
Or, you can buy ocean front property for developing (from $250,000 and up for ocean front lots).
http://www.labarqueta.com/panama-ocean-front-lots.html
That seems pretty expensive to us, when 2 minutes driving from the beach, there are homes (sheds really) made 100% of tin.
But we also know that it may be one of those places, especially with the people moving to Panama, that 10 years from now, we say something like "I remember when…"
It's really interesting to see the contrast between Panamanians whose families have lived in this area for 25-100 years and owned farmland near the beach, and the newcomers buying condos and property for upwards of $220,000.
On the way to the beach, we drove past about 30 cattle that were being moved down the road by a Panamanian Cowboy on a horse (in the back of the pack of cattle), and a Panamanian Cowboy riding a bike (yes, a bike) in front of the herd.
(We didn't get the camera out in time… so we don't have pictures of that. I'm really disappointed about that.)
Each cow was nearly as big as the Hyundai SUV we were loaned by Dave and Cora.
After driving down about 30k of (paved) road out of David, you arrive at Playa Las Olas.
The beach at Playa Las Olas is most definitely beautiful.
I spent 2 1/2 hours in the 85 degree water.
You can't really swim out past where you can touch the sand with your feet, because there are some serious currents pulling the water back out to the ocean.


But I've never felt an ocean so warm.


Carrie and I built a sandcastle.


Then we built a sandtower to defend the sandcastle from the ocean. Then I built a wall to defend the tower, and then built a smaller wall to defend the larger wall.


(I'd be willing to bet you a peach Snapple that despite our best efforts, our sandcastle has already been reclaimed by the ocean.)
We got to Playa Las Olas about 4:00 PM (having already worked much of the day) and stayed until sunset.


Playa Las Olas comes recommended as a day trip (or, if you have the money and are looking, as a place to buy/build).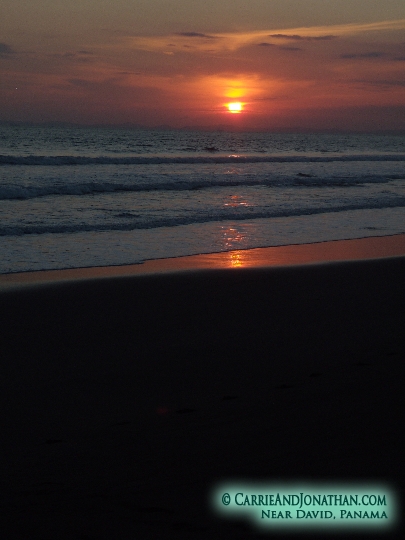 We had a truly fantastic afternoon.