The Story Of Us
(told from the perspective of Jonathan)
We have been together almost since the day we first met.
It was three days before Valentine's Day, and we were both at a bar for the German Club of UNC (Univ. of Northern Colorado). Every Monday night, the UNC German club gets together at a bar called Down Under to practice German in an informal setting. Immersion is, after all, the best way to learn a language. Down Under is really a hole. It is! It's actually it's a hole in the ground under a King Soopers (grocery store), and you have to go around the backside of the store to even figure out how to get to the stairs, which then get you into the bar.
Anyway, I was having a Valentine's Day party for people who didn't have valentines. When I invited one of Carrie's friends, she asked, "well, you're not going to invite me?" and so it began… She came to the party, and she found out how great I was. Just kidding.
She and I found out that we had more in common than that we both spoke German, and we started dating.
I knew from when I first met her that she was leaving for Germany in September for a year abroad, so we weren't going to be that serious.
HA! We proved to be inseparable.
There's so much more to the story, but here are a few of the highlights so far:

Proposing to Carrie at the top of Mount Kilimanjaro (Tanzania, Africa)

Being interviewed on FOX 31 Denver about our sponsors and how we marketed for them during our climb

Spending 6 weeks on our honeymoon in Europe (us at the Globe Theater)

Living and working in Buenos Aires, Argentina for 6 weeks

7 days at an all-inclusive near Cancun, Mexico (6 days vacation – 1 day work)

3 weeks living and working at Christmastime in Munich, Germany

Volunteering at a turtle project in Costa Rica

House-sitting for some friends in Boquete, Panama

Taking Spanish classes in Quito, Ecuador

The Auckland, New Zealand Skywalk

Living in a backpacker campervan/7 Day Road trip on the South Island of New Zealand

Sand sledding on 90 Mile Beach – the northern part of the North Island of New Zealand

Trying "Tim Tam Bombs" in New Zealand

Celebrating New Year's Even from our apartment (that we rented for 5 months) in Auckland, New Zealand

Seeing "trance dance" in Bali, Indonesia

A quick video I took of a monkey at the Monkey Forest in Bali, Indonesia

Learning Thai Cooking in Chiang Mai, Thailand

"Fish Spa" in Chiang Mai, Thailand

"Water Puppets Show" in Ho Chi Minh, Vietnam

The Taj Mahal near Agra, India

Learning to make Masala Chai in Udaipur, India

Trying McVeggie Burger with our friend Bhanu in Hyderabad, India

Crashing an Indian wedding

Visiting our friend Mara and attending her wedding at an Italian castle!

Touring a cheese factory near Parma, Italy

Meeting Jonathan's distant family (for the first time) in Slovenia

Facing the human disaster of Auschwitz (Poland)

Touring the Slovakian castle where the original Dracula was filmed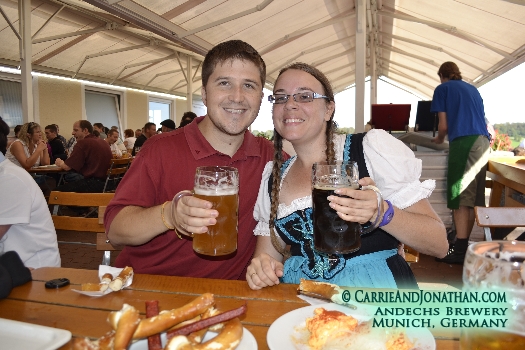 Going to Oktoberfest in Munich, Germany

Visiting Santa Claus (The REAL ONE!) at the north pole in Rovaniemi, Finland
And you can travel the world with us on the main page of our site to find out our favorite part of our adventure… which is probably whatever we are doing right now.
You can also see Jonathan's Google Plus+ profile.