Starting the day by getting on a boat at 7 AM, knowing we'd spend the better portion of the next 9 hours on boats, I felt like it would be a very long day.
Our travel companions for the day:
Three late 20's Aussies
A German guy who called himself "Roy The Crazy German"
A woman from New Jersey who was the stereotype of all things American. Having just spent the last 4 years on a secured compound for an NGO in Afghanistan, she was now teaching English in Cambodia.

We started the day at a fish farm on the Mekong River. There are hundreds of these floating homes, built from wood and tin, which underneath them have giant nets/water cages made of rope. This is where the fish are kept while they are being raised.


Up to 120,000 fish can be living in one of these fish farms under one family's floating home.
According to our guide, fishing on the Mekong used to be people's livelihood, but there aren't enough fish in the river anymore, and there's a lot of pollution coming from upstream and being generated locally.
(The Mekong starts in China and works it's way through three countries before getting to the Mekong Delta.)
The Mekong River is seriously polluted in parts, with places where there are truckload sized collections of trash on the banks of the river waiting for the higher seasonal water to come along and carry them out to sea.


Governments are working on education programs, but change takes time and desire. Governments are supposedly also working to clean up polluting practices. But the biggest polluters are often those with the biggest pocketbooks and incentive to keep things functioning status quo.
Apparently (though we didn't see or experience it at all) corruption and bribery are big problems in Vietnam.
So education is where the focus goes. Creating desire in others to do what's a little less convenient (throw it away and haul it out later for trash collection vs. throw it in the river now) takes a little more creativity and effort.
In addition to the fish farm, something there that amazed me was watching the lady next to the farm doing her laundry.


While humans can adapt and change, we are also prone to do what we have always done, if for no other reason than because that's the way we've always done it.
The laundry isn't being done with a washing machine. The laundry isn't being done with clean spring water.
The laundry is washed in the river.


This should be fine, only it isn't because of all the pollution, which you can't see, but which is enough to kill fish in the river and in the fish farms.
The water also is just muddy looking.
But try explaining that to someone whose family has washed their clothes in the river for generations.
People's habits and patterns can change, but it takes time and desire. And they should be able to wash clothes In the river without worrying about what damage might come to their body from the clothes they've just washed.
But that's another topic for another day.
From the fish farms, we took the boat a little further upstream to a Cham Village. Here, as in many other places, the primary source of income is selling things to tourists. In these traditional villages all over the world, what they often sell is handmade scarves and blankets.


This traditional Cham Village is descendants of people who came to Vietnam hundreds of years ago from Malaysia. Practicing Muslim beliefs and speaking their own Cham language, they are a culture within, but separate from, the larger culture of Vietnam.
Even that is changing though. There are cell phones and western clothes and televisions here as well.
Little girls have been taught by someone (parents maybe) that if they just keep asking, eventually someone will buy.


They had a script, which is the same script we've heard elsewhere, which goes something like "Please mister. I'm poor. I need money for school. Please buy a [__________]."
I say, "No, thank-you." Except I usually try to say thank-you in the language of whoever I'm talking with, which means learning thank-you in many languages. So I say "No, Thank-you."
"Yes. You buy. Please mister. I'm poor. I need money for school. Please buy a…"
"No. Thank-you. I don't want a waffle."
"Yes. You buy."
And I've learned that if you keep up this dialogue, they will keep it up too. So one option is to break off the conversation and just ignore it.
But I prefer to test and try to make conversation to get them to see that I am a real person.


"What's your name?"
People everywhere know this question in English.
At the Cham Village, I started having a conversation with a boy who was trying to sell me some waffles.
In between his repeated script, I found out his name (Aum), got him to tell me how to say hello and goodbye in his language, and learned how to say thank-you.
He kept at his script, but when it was time to go, I got a big smile from him by saying (in his language) "Good-bye Aum. Thank-you."


On the way back to the boat, there was a little boy who was squatting on the path. So cute (if a little devious looking).


The girls selling waffles in their traditional dress followed up with the tourist group, repeating their script all the way out of the village and back to the boat, continuing to try to sell their waffles even as the boat pulled away from the dock.


From there we went upstream.
The next 7 hours were spent waving to kids and people on the shore, looking at temples as we rode past, and watching as people entered the water with their water buffaloes.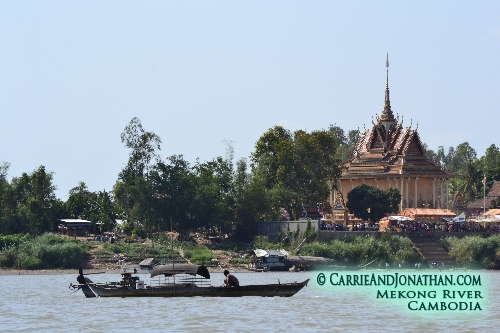 I don't know how all of the border stuff between Cambodia and Vietnam got taken care of. I know that our guides on both sides of the border were busy running around while we sat and had our last Café Sua Da (iced Vietnamese coffee), so I'm sure there was something going on as they took care of everything for us. But it was nice to go through a border crossing and be able to just sit and enjoy some noodles while our guide took care of the rest.
Back on the river after the border crossing…
People, especially children, love to wave and smile at people passing by. This is really only true here though if you smile and wave first.


I think the histories of both Vietnam and Cambodia make people initially skeptical (and rightfully so) of any stranger's reasons for being in their village, city, or river.
However, the kinds of responses you can get from people who don't know you and will probably never see you again, just by being the first to smile and wave, are surprising and wonderful in their genuineness.


Watching people live much as they always have on the Mekong (but now with the full-on advances of cell phones, television, and motorcycles), was a wonderful thing to see.
What I will remember from this boat trip up the Mekong:
The honeymooning couple having fun scrubbing each other's backs and throwing eachother in the river, who got embarrassed when we came by
Little boys playing in the water and having a great time while being unashamed and unembarrassed of being as naked as the day they were born
Water buffaloes (which aren't actually buffaloes at all) up to their horns in water, keeping themselves cool in the river

Playing Uno on my turned over suitcase with Carrie, three Aussies, and Roy the crazy German.

The woman from New Jersey had a bit of a difficult day when she bent over and both her cell phone and camera fell out of her pack into the Mekong River. She was sunbathing on the front of the boat while we played Uno.
So many other sights
When we got off the boat at the outskirts of Phnom Penh, we still had a 1 hour car ride to get in to the city.
From where the car driver dropped us off, it was another 5 minute Tuk Tuk ride to our hotel.
While it did turn out to be a very long day (11 ½ hours in total travel time), seeing the smiling faces of locals enjoying their lives as we cruised up the Mekong River was one of my favorite days of our past 1 ½ years of traveling, a day that I will cherish forever.
P.S.
It was hot.
Darn hot.
So darn hot you could fry an egg in your shorts.
(That's a "Good Morning Vietnam reference for those who missed it.)