Jonathan and I woke up this morning thinking that we would be checking out of our guesthouse, and going to Chiang Rai.
But first, we knew that we wanted to visit: the silver factory, a silk factory, and go play with tigers. That sounded like a lot to accomplish in just a few hours.
So, we booked yet another night at our guesthouse, and decided we'd head off tomorrow.


We booked a driver for the day to take us everywhere we wanted to go – for the grand total of $16 for a whole afternoon of driving and waiting around just for us.
Our first stop was Tiger Kingdom (about 30 minutes outside Chiang Mai). At Tiger Kingdom, you can get up close and personal with tigers. You can choose between the big tigers (adults) and the small tigers (ranging from about 4 months).


We chose the big tigers. Because, well, when visiting tigers, bigger is better (even if smaller is cuter). (And it cost less, and we got more time with the big big cats than we would have with the small big cats.)
15 minutes for $5 with the big cats.
Because it was raining, the tigers had to stay inside, so we went into their cages with them (and their trainers).


We got to each spend time lying next to, on top of, and rubbing the bellies, of 3 tigers (named: Sophia, and Jennifer Lopez – I don't remember the name of the first tiger we saw).
Our time was over all too quickly. Well, sort of, I'd already started sneezing and getting puffy and itchy eyes, so I'm actually glad we couldn't stay longer with the tigers. (A cat allergy is, not surprisingly, magnified with tigers.)


But, we still had lots of tigers to look at, so we walked around the park and gaped at all the beautiful creatures.
Those little guys are quite playful, and very cute!

But, I liked when this tiger saw that the Jonathan paparazzi was taking its picture.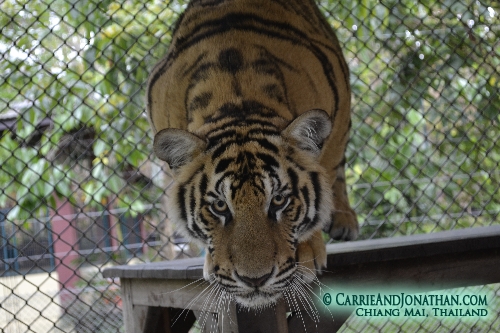 On to the silver and silk factories…