A friend of mine often says that everything happens in the right time, for the right reasons, in the right place, and in the right order.
His statement has become a mantra in my life, something to focus on when things are difficult to experience or to understand.
That phrase has been important for me to remember as my mind struggles to comprehend how someone like Shannon has departed this plane and left the body that she called home for 34 years.
At Shannon's standing room only memorial service two Saturdays ago, they gave everyone a card.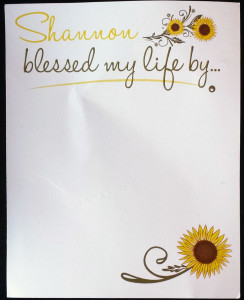 On the card, it says… Shannon blessed my life by:
These cards were collected and will be kept so that Shannon's 4 year old daughter Emmy will be able to see her mom through the eyes of others.  It's a way to let Emmy know how others saw Shannon in person, since Emmy won't have that experience as she grows up.
Here are the ways that knowing Shannon has enriched my life.
Shannon blessed my life…
by being, in Carrie's words, "the best thing I got out of grad school". If Carrie had not gone to grad school, she likely would never have met Shannon. Shannon brought to Carrie's life, and later to my life, an ear for really true, deep listening, and meaningful reflection. When we were introduced to her husband Peter, we became fast friends. These qualities of listening and reflection are strong in both of them.
Shannon blessed my life…
by listening and really hearing me. I never felt judged, or critiqued, or placed in a box. Shannon had a knack for not only letting people be themselves around her, but also for creating space. Maybe she did this on purpose, or maybe it was just something about who she was. But it was definitely more than just a physical space. It was a feeling of openness around her, where I could just be me freely. Though this, she actually, perhaps unknowingly, encouraged me to be more for myself and for Carrie.
Shannon blessed my life…
through her writing. She shared her heart and thoughts in a way that I want to, and sometimes successfully do, but Shannon seems to do this so eloquently in her writing, so much of the time.
Shannon blessed my life…
through her gardening. The last couple of years, going to Shannon and Peter's house in the summertime, for game nights or for having dinner with them, meant coming home with a bag full of the most amazing home grown produce. We couldn't leave their house without taking at least one large bag of things from their garden. It just wasn't allowed. I loved that.
Shannon blessed my life…
in the multitude of ways that she was a great friend to Carrie.
Shannon blessed my life…
in so many ways.
————-
We learned of Shannon's pregnancy, as well as her cancer, while we were traveling. I think we were in Asia somewhere, maybe Vietnam. I remember wondering how one of our very good friends could be given such a diagnosis: someone healthy, vibrant, strong, and just really getting into figuring out life as a young thirtysomething, given just 6 months to live, while simultaneously being pregnant.
Shannon went looking for resources for women who were experiencing both pregnancy and cancer. When she found that there weren't as many resources available as she wanted, she started sharing her learnings through her site sunshine-and-shadows.com.  She went on to write about her experiences for more than 4 years from the original diagnosis.
I loved reading her writing and her site. She expressed herself so beautifully.
And yet I wondered why she had to write about having cancer and being pregnant… in what world does that make sense?
Life sometimes seems to make no sense.
We like to base our lives on things that we think we can trust. Trust comes from knowing and understanding. But sometimes there are things that we won't really know or understand, and may not ever know or understand. And in those moments, trusting in what we know doesn't work. We have to, in those moments, find faith that there is something greater at work that's beyond us and bigger than us.
This song lyric seems fitting for times like these, when things seem to make no sense:
Nobody said it was easy… But nobody said it would be so hard.
(Clicking once in the box above will play the Coldplay song I'm thinking of)
————–
Times that I will always remember with Shannon and Peter will include
The wild and crazy tear the house apart Easter egg hunts, and finding Easter eggs hidden in the most amazing places… Inside of the couch cushion inside of the foam, buried very deeply.
The Simple Human kitchen gadgets they had in their first apartment where we first visited them on the CU campus. Up until that point, I had never seen trash cans that opened themselves, or some of the other fun gadgets they had in their kitchen.
Shannon and Peter always coming to our pumpkin carving party. No matter what, at least one of them would be there every time we had one.
Having brunch with them at their new condo in Boulder when we got back from our travels.
Shannon coming for Carrie's birthday party last summer, and coming up the elevator with me to see the tomatoes in our balcony garden. I will remember how impressed she was that I was growing basil, and cilantro, and apple trees. She was especially impressed with the apple trees. She was also impressed that I was building Carrie's jewelry holder. She related it to Peter's woodworking, which I have always found to be amazing, and it was such a compliment for me.
Eating pupusas (one of Shannon's favorite foods) with them, while Shannon was in hospice care
Shannon showing me this year, after recovering and coming out of hospice care, her book of seeds, and her garden planning. How she had laid everything out, and what she was growing for the summer. She offered that I could take any seeds that I wanted (and thought would grow on the balcony downtown).
Going to their house in May or June, with a crazy rain and hail storm hitting. And sitting on their balcony with them, watching the lightning and the hail. I just got this sense from Shannon that night that she was completely content with everything. .. with where she was. She truly was appreciating that moment to the fullest, in its absolute simplicity.
And I will always remember Shannon and Peter's renewal of vows, just a few short weeks ago in the hospital. That was the last time we got to see Shannon's smiling face in person, and what a fitting way to remember her… strong, committed, brave, and happy.
Everything happens in the right time, the right place, for the right reasons, and in the right order. I strive to remember that, because a good friend has gone physically from this lifetime, leaving us with her amazing husband Peter, her beautiful daughter Emmy, her impact on so many people, and her powerful and eloquent words.
I will strive to follow her words from the last post she wrote on Sunshine-and-Shadows.
Life is always trying to rush past us. Grab it in your arms, even as it fights you, grab it to give it a momentary kiss or peer deep into its eyes to really, truly say "I. Love. You." Because life will ALWAYS be trying to escape from our grasp and all we can do is try to grab it for just a moment longer.