After church at San Clemente and a visit to the Coliseum, we took the subway to the stop nearest the Trevi Fountain.
Carrie and I are used to moving pretty quickly when we go from place to place, and we're very familiar with each other's pace after 5 years of traveling together.


So it's definitely an adjustment to travel in a big city with more than just the two of us.
But I'm really glad to get to travel with my parents and grandma and sister.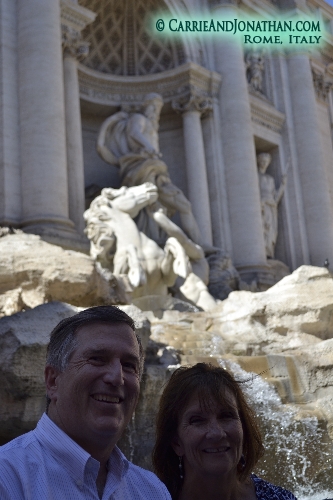 It's fun to get to explore a city like Rome with family.
Although we are here at the height of tourist season, and there were maybe 500 people or more gathered around, I think everyone enjoyed coming to the Trevi Fountain.
I think my sister Deanna enjoyed it too, though the plaza wasn't as big as she had imagined it would be.


We got gelato…
did a little shopping…


And rode the subway back to the stop nearest our place.
After a delicious meal of fresh tortellini, it was time for well-deserved rest.