By now, Jonathan and I have been to a few markets (Chichicastenango, Guatemala, as well as Saquisili here in Ecuador).  But, it has been said that Otavalo is the most famous market in South America.
Since it's only 2 hours from Quito, we had to check it out.
From About.com:
Ecuadorian Textiles are world famous for their quality and history.

The history of the textiles goes back to Spanish colonial days when land around Quito was granted to various people, including one Rodrigo de Salazar who had the grant at Otavalo. He set up a weaving workshop, using the Otavaleño Indians, already skilled weavers, as the workforce. Over the years, with imported new techniques and tools from Spain, the weavers at Otavalo supplied most of the textiles used throughout South America. The downside of this economic success was that the Otavaleños were sometimes forced to labor at the looms in a system called Obraje. Today the Otavaleños have diversified their techniques with techniques from Scotland, and at Hacienda Zuleta created the Otavaleño cashmere and created a world-wide market for their textile products. You can see some of the techniques in the demonstrations at the Obraje Weaving Museum.

Otavaleños wear clothing distinctive to their area. Embroidered blouses, beaded necklaces and skirts for women, while men wear their long hair in braids and wear white trousers, ponchos and sandals.
Our "acquaintances" (acquaintances is a joke we'll be happy to tell you about sometime) Kyra and Alex abandoned us for Mindo for the weekend, so we went with our friend Amy, instead of with a bigger group.
Amy's great!  We look forward to spending more time with her.  Thanks again for letting us tag along with you Amy!
We took the Ecovia to the Rio Coca Station, where we took a taxi to Carcelen Bus Terminal (in the north of Quito). We met Amy at Carcelen Bus Terminal at 9:00.  All the way at the back of the terminal, there's a small booth to buy tickets to the various cities that this particular terminal runs buses to.
We bought our ticket to Otavalo ($2 each) and went to board the bus.  To leave the terminal cost $0.20 each.  Weird.  I've never been charged to leave a bus terminal before.
Anyway, we saw two buses, and got on the second one.  It look less crowded.
We took our seats, and quickly realized that they weren't our seats at all.  We had assigned seats!  (Good thing we got on the right bus.)
The bus was quite nice, nothing extravagant, but nice – especially for a short-distance bus.  They even showed a movie (Gone in 60 Seconds – en Espanol).
When we arrived 2 hours later, in Otavalo, we didn't really know where to go.  We decided that the best course of action was to follow the crowds.
We did.  We found the market.
The most amazing thing about the Otavalo Market?  How peaceful it is.  I was amazed.  It was quiet, though bustling, calm though active.
There was so much to see.
Piles of yarn.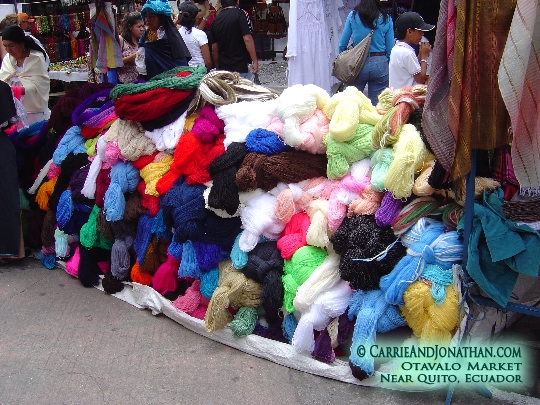 Stacks of alpaca scarves, blankets, shalls.

Hammocks

Little llama dolls made out of real llama/alpaca wool

And so much jewelery it could make your eyes hurt.
The colors were fantastic.  And the market just kept going on and on.

We did eventually make it to the church (at the end of the market).

There we saw an indigenous wedding party dressed in their Sunday best

as well as Super Man!

It's always fun for us to look at pictures at the end of the day and see that we really are giants.
We all realized at about the same time that we were quite hungry.  So we sought out a place with a view.
We ran across a small café on the second level of a building.  Their menu looked great, and they had a fun view of the market down below.
They also had something none of us had ever seen before: Chocolate and mozzarella pizza.
Now, how can you see that on a menu and not order it?
I wish I had a picture of the waiter's face when we ordered it.  He wasn't just surprised, he was disgusted. Mind you, this was the WAITER!
The verdict: "Strangely good".
After a really wonderful day at (another) market, we caught a bus back to Quito.
It was a bit hard to go from clean, fresh air (and finally being able to breathe), and the quietness of Otavalo back to noisy and polluted Quito.
But, for the moment, we're happy to be calling Quito home.
More pictures from Otavalo market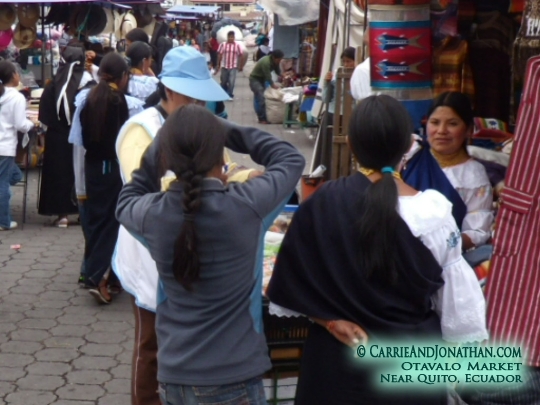 These women were bargaining in Quecheua (The language of the indigenous people of this area).  It was fun to hear.

Look closely… she's carrying a chicken by the feet. It's still alive… presumably not for long.