Did you grow up hearing tales about Giants from the North? I know I did. I've even heard them referenced in numerous movies and children's fairy tales.
I was never too concerned about giants though (it was vampires that terrified – terrify – me).
Today I learned something about myself.
The reason that I was never afraid of giants is because I am one.
I am a Giant from the North.


Chichicastenango isn't known for much. But it is known for its market.
The market is only open on Sundays and Thursdays. I'd heard that it's an experience that can't be missed while in Gautemala.


All I knew in advance was the days it was open, and that it was supposed to be the best handicraft's market in Guatemala.
We were picked up by our shuttle at 8:00am, and driven the 45 minutes to Chichi. As we were dropped off, we thought, "This isn't so big."
We were wrong.
The streets are absolutely filled with a maze of stalls and vendors of all things from handwoven shirts, to pirated DVDs, and of course food. Check out all the types of grains that can be purchased at just one small stand.


It just keeps going. And going. We'd turn the corner, and there would still be more, just around another bend.
Words cannot describe the amount of visual stimulation that you're met with at a visit to Chichicastenango's market. (Imagine about 1,000 of this picture.)


It's a truly beautiful place full of wondrous goods. It's also easy to stand out, and above.
There is always someone asking you to buy something. There is even the occasional woman who is persistent enough that you have to buy something from her.
(We walked away from a woman selling hand woven table cloths / runners 4 times. We said "no, gracias" countless times. She finally won us over.)


Chichicastenango's Market (only open on Thursdays and Sundays) has been in operation for over 800 years! It is definitely a place to see. But, keep in mind that they've only had Westerners there for about the last 15 years.


It is amazing to see (and appreciate) all the traditions. I wish we could have experienced them more.
Unfortunately, it is also pretty clear that they are moving away from the traditional Mayan to the modern western. Take a look at this mom and her son to see what I mean.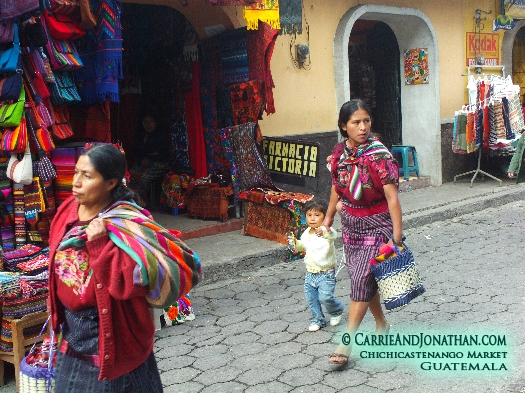 I loved the market. I didn't like being seen as a giant dollar sign.
Being seen as a Giant is ok with me. Especially when I stand over 12″ taller than most locals. (Take a look at this picture. Look for me in it, and keep in mind that when Jonathan took it, he was standing about 1/2 a block away.)


It is true what they say. No trip to Guatemala is complete without a visit to Chichicastenango Market.